Essay On Ishant Sharma Bowler
For the second Test starting in Nagpur, India had lost three of their main performers, who had all done brilliantly in the series opener against Sri Lanka at Eden Gardens.
India's pace spearhead, Mohammed Shami had claimed four wickets, swing sensation Bhuvneshwar Kumar had a match-haul of eight wickets and opener Shikhar Dhawan had blasted 94 in the second innings.
READ | Ravichandran Ashwin hopes to reach 600 wickets after record show vs Sri Lanka
Any team would be rattled; they are big holes to fill. But what does India do? In comes Murali Vijay for Dhawan and smashes a hundred, Ishant Sharma fills in for Bhuvneshwar and outshines all other bowlers, and Rohit Sharma creams a free-flowing hundred.
India has the kind of depth teams dream of, and the second Test provided proof. This is India's main strength at the moment.
Ishant and Vijay were like-for-like replacements while Rohit got a chance because India chose to go for a six-four (batsman-bowler) combination.
READ | Virat Kohli rested for Sri Lanka ODIs, Rohit Sharma to lead India for 1st time
JOSTLING FOR SPOTS
The Mumbai batsman is likely to go back to spending time on the bench, and will get his next chance when India decide to add an extra batsman. However, the impressive performances of Ishant and Vijay have increased the competition for places in the playing XI – a welcome headache for the team management.
Captain Virat Kohli will have a tough choice to make between picking Dhawan and Vijay for the third Test starting in New Delhi on Saturday. Dhawan can change the game within a session and was India's highest run-getter in the series in Sri Lanka as well. But Vijay was the first-choice opener and the left-handed batsman only got a chance only because Vijay got injured ahead of the away Sri Lanka series. The call has to also be based on who the team management plans to open with in the upcoming South Africa series.
READ | Ishant Sharma's resurgence welcome news for Indian cricket team's pace stocks
ISHANT'S FORM
Though Ashwin bagged an eight-wicket haul, the talking point of the game among bowlers was Ishant's impressive performance. The lanky pacer was in the kind of rhythm which had helped him make a name when he first burst on to the scene. To add to his three-wicket haul in the first innings, he bowled two dream deliveries in the second essay for a match haul of five.
It gives Kohli a ready-made back up for the fragile Shami. With Bhuvneshwar Kumar swinging the ball like a sultan, Umesh Yadav will be under pressure to keep his place in the playing eleven for the South Africa series.
India were already in a strong position when Rohit Sharma came out to bat, but it was an important hundred for the Mumbai batsman; not just from a personal point of view, but it fits into the team's preparations for South Africa, where India are likely to feel the need to bolster the batting.
BATTLE-READY
It is credit to the team management for how they have kept their troops battle-ready. Rohit was playing his first Test since October 2016, Ishant and Vijay their first since March.
Talking about the mindset needed to wait for a chance after a long time, Rohit explained: "The most important thing is when you get an opportunity you have to be more than ready, not just ready to play the game (but) deliver the goods that your coach, captain and team expect from you.
"When I was in Sri Lanka or before that, you never know you are going to be guaranteed a place in the 11. You got to try and figure out the way when you are in the middle, how you are going to be destructive and make an impact on that particular game. So, my focus was particularly on those aspects.
"We have got some good set of coaches to go through all that and it really depends on the captain and coach, what combination they want and what they are comfortable with. And every member of the side completely understands that and back them 100 per cent to make the right decision."
As the ball sunk into his fingers, Cheteshwar Pujara was ecstatic. It was a new ploy to have him stand at first slip, and he lunged forward, the first wicket to fall in the second Test against Sri Lanka. His joyful exertions almost took attention away from the fact that it was Ishant Sharma's wicket.
It was a brilliant delivery — landing perfectly on the seam, in-line with off-stump and moving away from the batsman thereafter. The movement wasn't too pronounced, unlike Kolkata, but it was too much to handle for Sadeera Samarawickrama, despite having faced 14 deliveries prior.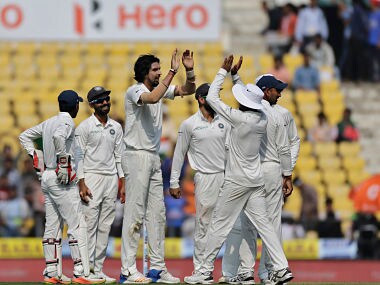 Ishant Sharma celebrates the dismissal of Sri Lanka's Dimuth Karunaratne during the first day of second Test in Nagpur. AP
Ishant had missed the first Test, and was fired-up in Nagpur. Sri Lanka were in some bother that morning, mostly thanks to Ishant on that lively pitch while the little grass on it was still fresh. Ishant struck again, just as Dimuth Karunaratne — having survived against both R Ashwin and Ravindra Jadeja — was looking to get set.
Ishant slipped in his 'stock' delivery, the one that comes into batsmen, going across the left-hander, creating enough doubt in his head. Karunaratne dabbed at it, choosing to play it off his legs standing tall at the crease, and was caught plumb in front. The bowler was joyous, and rightly so. It is when that incoming delivery falls to perfection, Ishant is seen to be at his very best, and this spell proved so.
Like most fast bowlers will tell you, it is all about rhythm in their business. If a pacer doesn't bowl for days on end, the rust won't come off as easily it might for a batsman who hasn't had a hit or a spinner who hasn't tossed up the ball for the same duration. Fast bowling is unnatural to the human body, as the legendary Wasim Akram once put it. What pacers do for a living is akin to heavy machinery put to operation – they are high maintenance and need proper oiling to prove efficient in the long run.
When the Kolkata Test began, India already had two rusty pacers in the side — Mohammad Shami and Umesh Yadav, both not included in the limited-overs plans for a while now — and it showed in their initial spells. In that light, it was the right call to let Ishant play Ranji Trophy before joining the team in Nagpur. Leading Delhi this season, he has been in good form, picking 20 wickets in four matches before a match-haul of 5/80 in the second Test against Sri Lanka.
"I was pretty confident as I was playing first-class cricket. I had good rhythm coming into this game. Pace is not a problem for me. I just have to keep working on my stock delivery," he told the host broadcaster during the game.
His reference to the 'stock delivery' needs to be underlined. Like mentioned before, it is the singular representation of how Ishant is bowling at any particular time. When it comes out right, like in this case, you know things are clicking for him. It also points to a time when this wasn't happening, when Ishant didn't look the part as India's leading pacer and you just knew from the way he struggled to hold shape during delivery. It can be a struggle to pinpoint this from his long Test career — 78 already — and takes more than a keen look at just the wickets' column.
It was during the West Indies' tour last year when Ishant had hit his last poor patch. Let it be said outright that he wasn't bowling badly, yet Shami and Yadav simply stole a march on him. On flatter tracks in the Caribbean, despite his height, pace and ability to move both the old and new ball, Ishant struggled to make deep inroads into the West Indies' line-up returning 8 wickets from four Tests at an average of 32.12.
Shami had 11 wickets at 25.81 in the same interim, while Yadav played only two Tests, picking five wickets at 29.80. This is where Ishant's travails seem to kick in. When conditions at St. Lucia called for the inclusion of Bhuvneshwar Kumar, Yadav made way for him and not Ishant. The reasoning was two-fold — one, Yadav and Shami are largely similar bowlers. And two, Ishant provided a steady holding-line from one end even if the wickets' column didn't reflect so.
Yet, when the long 2016-17 season began, Yadav was picked ahead of Ishant and enjoyed a stellar run. Ishant played only 1 out of 7 Tests against New Zealand and England (he missed the Mumbai Test on account of his wedding), and it was Shami's injury that brought him back for the Bangladesh and Australia series thereafter. That last series — three wickets in three Tests at an average of 69.66 — was again remembered more for Ishant's facial antics than anything else. It was no surprise that he sat out all three Tests in Sri Lanka in July-August behind Shami-Yadav.
"I didn't take many wickets in the last 12 Tests I played, especially in India. Umesh, Shami and even Bhuvi have been bowling tremendously, and deserved to get a chance before me," Ishant said in Nagpur. Before this Test, going all the way back to South Africa's tour here in 2015, he had returned a mere 18 wickets at average 41.61. It helps when a cricketer knows where he stands, and in this particular case, Ishant didn't stand out as India's most experienced pacer.
The thing of note, however, is that it doesn't put him out of contention at all, particularly with a long overseas schedule coming up. In fact, it was during the overseas cycle that Ishant came up with his best performances. Across South Africa, New Zealand, England, Australia and Sri Lanka, he returned 56 wickets in 14 Tests at an average of 32.69. It was the best he had ever bowled, underlined by his stunning burst of 7/74 at Lord's for that famous win.
As always, Ishant puts strange quandary in front of the team management. He lacks neither pace, nor motivation, and has ample ability plus experience to lift the bowling attack. At the same time, the small fact that India now possesses a brilliant battery of four pacers — arguably their best in two decades — cannot be denied either.
So, when the first Test at Cape Town comes about, will Kohli start with his most experienced pacer, or will Ishant be relegated to the bench?
Published Date: | Updated Date: